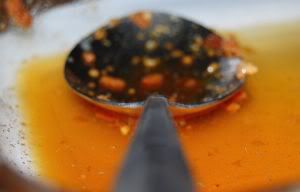 Asure

(Turkish Wheat Pudding)

This is one of the oldest and most traditional deserts in Turkish cuisine. Legend says "When the Flood finally subsided and Noah's Arc settled on Mount Ararat in Agri, those on the vessel wanted to hold a celebration as an expression of the gratitude they felt towards God, but alas, the food storages of the ship were practically empty. So they made a soup with all the remaining ingredients they could find and thus ended up with 'Asure'.

Following that legend, today Asure is prepared by cooking together at least fifteen ingredients which vary slightly by region. For example, in the Çorum region, known as "Pekmezli Hedik" molasses is used and replaces sugar. In Gaziantep anise is added to that version.
Servings: 10
Ingredients:
Dövme (dehusked wheat for Asure) 1 cup
Chickpeas 1/3 cup
Dry white beans 1/3 cup
Rice 2 tablespoons
Water 12 ½ cups
Dried apricots 10
Dried figs 5
Raisins (seedless) ½ cup
Orange 1 small size
Sugar 1 2/3 cups
Rose water
2-4 Tbsp
Walnuts (not crushed) 2/3 cup
Pomegranate ½ small size
Preparation :
Rinse the wheat, chickpeas and dried beans. Soak beans and chickpeas, separately, each in 1 cup of water, overnight. Soak the Dövme and rice together in 2 cups of water, overnight.
Add 3 cups of water to the Dövme and 2 cups of water each to chick peas and beans and place them individually on the burner. Cook the Dövme until the grains are dissolved and the starch comes out. If necessary boil the chickpeas in a pressure cooker.
Rinse dried fruit and soak them for 2 hours in 1 ½ cups of water.
Mix the cooked ingredients and the dry fruit in a pan and cook for 15 minutes.
Peel the orange and cut the rind, including the white inner part into 3-4 cm long and 1 cm wide strips. Divide the orange slices into 4-5 pieces. Add them to the mixture altogether and cook for another 5 minutes. Add the sugar and cook for 1-2 minutes and turn off the heat.
Add the rosewater and stir.


Pour into dessert cups. Garnish with walnuts and pomegranate seeds.