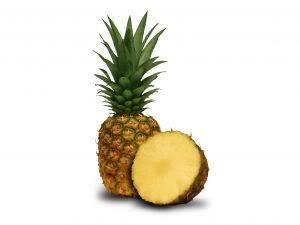 Pineapple & Olive Clay Mask
Pineapple contains protein digestive enzymes and fruit acids that help
remove dead skin cells and dirt, as well as leaving skin smooth and
soft. It has anti-inflammatory properties and is mildly astringent.
Olive oil has vitamin E which is very nourishing to the skin, and it has other wonderful healing properties.
The occasional use of clays such as kaolin, green clay
or betonite can be very good for drawing dirt and toxins
out of the skin.
Combined they make a wonderful mask for the face and the rest of the
body - it is a super treat if you can get someone to give you a body
wrap with it.
This mask is simple to make and deliciously effective -and it smells
yummy too! ... I hope you enjoy my little "spa recipe" as much as I do.
Recipe:
In a food processor puree about 1/2 cup of pineapple, 2 Tbsp of
neroli hydrosol (use rose hydrosol if your skin is dry or sensitive)
add 2-3 Tbsp olive oil, add a few Tbsp of clay - starting with 2 Tbsp and adding more as you blend to get it to the paste consistency you'd like. Spread over skin, massaging gently and leave on for about 15-20 minutes (it will not fully dry - it'll be kinda sticky). Rinse with warm water. Pat dry. Tone skin with a spritz of
rose
or
neroli hydrosol
. Enjoy having baby soft skin :)
This recipe will make enough to do a face and some body parts - or a
couple of facials. You can freeze the leftovers to use later that week.
It might change color slightly, but the enzyme activity will still be
effective, as freezing slows enzyme activity but does not stop it, and
once warm again the enzymes will return to being fully active.Do not
re-freeze after thawing.