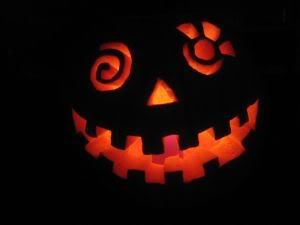 As we count down the days and nights to All Hallows Eve I am happy to share one of my favorite annual "scentual" seasonal crafts!
Scented Jack O'Lanterns & Spicy Squash:
My Jack O'Lanterns not only look seasonal, but smell seasonal too! Having a pleasant, warm and luscious scented jack-o-lantern is easier than making pumpkin pie! This is also applicable for any kind of squash or melon you may be using as a Jack O'Lantern, not just pumpkins.
First I have to say that I have learned not to cut the TOP out of the
pumpkin to carve a Jack O'Lantern ... cut the pumpkin open from the
BOTTOM of what will be your face area and then you will never have the
top cave in from decay and they last longer .... I personally love the Jack
O'Lanterns with the stem as the nose :)
that being said ......
Simply score the inside top or cap of your pumpkin with a knife and then
rub the inside top portion of the pumpkin with a mixture of
vegetable oil
(any kind), pumpkin pie spice blend and a blend of
essential oils
- I like to use
allspice
,
cinnamon
,
clove
,
ginger
and
nutmeg
.
As the candle warms the inside of your pumpkin it'll release the aroma.
I am thinking of making a
clove
and
citronella
scented pumpkin to repel the trick or treating mosquitoes here in my part of TX.