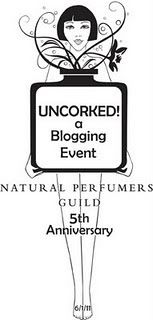 I grew up in NYC. While many of my youthful memories involve smells that were not always natural or pleasant, there was an abundance of Gaia's aromatic influences around me to put this child on the right track at a young age.
Mrs. Huie grew cascading pale purple wisteria on her balcony. Mr. Schneider had mounds of sweet golden honeysuckles. Old overgrown lilac & mulberry bushes were prolific all throughout the back alley. These are the natural fragrances and fragrant flavors of my childhood; seasonal scents & sweet sensations, annually anticipated and experienced with jubilation. I was hooked way back then.
As I grew into a teenager I became heavily involved in studying a variety of "aromatic arts", including cooking, aromatherapy, handmade incense, ancient perfumes, etc. These ingredients included herbs, spices, resins, oils, and a variety of fragrances both natural and synthetic. Rather quickly I gravitated away from the synthetics. They simply didn't suit my personal needs for a variety of reasons and I tended to make most of my creations without them, eventually phasing them out completely. Employment opportunities in my late teens and early 20's introduced me to a far wider range of aromatic materials than I had ever used before. This increased interaction and greater experience with essential oils, absolutes, concretes and other nature made heavenly scents only piqued my interests more.
Then came the internet .. In the mid/late 90's I found myself meeting other aromatic artisans and aromatherapists online. One of the folks I met was a botanical maven & Natural Perfumer named Anya McCoy. Since the early 90's she had been making and selling all natural, modern style perfumes, with commercially available natural aromatic ingredients and even some self created concoctions made from flowers and fruits growing in her own tropical garden. Once we got talking, I knew the sky was the limit for this art form and for me!
The rest is HerStory! Happy 5th Birthday Natural Perfumers Guild!
This is part of Uncorked, an anniversary celebration of five years of the Natural Perfumers Guild, with the following other bloggers/companies blogging today:
Adam Gottschalk, Lord's Jester
Alec Lawless,Being Led by the Nose
Anu Prestonia, Anu Essentials
Anya McCoy, Anya's Garden Perfumes
Charna Ethier, Providence Perfume
Dawn Spencer Hurwitz, DSH Notebook
Denise Smith, gtt by gtt
Elise Pearlstine, Bellyflowers
Emily Pienaar, The Western Cape Perfumery
Ida Meister, Ca Fleure Bon
Isabelle Gelle, Les Parfums d'Isabelle
JoAnne Bassett, Natural Perfumes
Karen Williams, Aromatics International
Laura Natusch, Olive and Oud
Lisa Abdul-Quddus, Blossoming Tree Bodycare
Noelle Smith, Ellenoire
Robert Tisserand, I'm Just Saying
Ross Urrere, Olfactory Rescue Service
Susan Stype, Aromatherapy Contessa
Trygve Harris, Absolutely Trygve