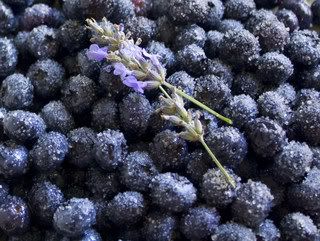 It is 100 degrees outside and blueberries are on sale. To me that sounds like an invitation to make homemade ice cream.
Blueberries make a lovely lavender color ice cream, which inspired me to add lavender as a flavoring. Then I chose to use honey in this recipe because flavor wise lavender and honey compliment each other very well; to the point where the hint of lavender in this recipe is more a slight amplification of the wildflower flavor of the honey itself rather than a particularly distinct or powerful flavor of its own. I certainly didn't want anything to overshadow the flavor of fresh blueberries present at the party!
1 & 1/2 Cup Blueberries, rinsed
3/4 Cup local raw Honey
1/4 Cup Water
1 Pinch of pesticide free Lavender Blossoms
1/4 Teaspoon ground Cinnamon
1/8 Teaspoon ground dried Ginger
3-4 Drops of
Lavender Essential Oil
3-4 Drops of
cane alcohol based Vanilla Absolute
3 Cups half-and-half
In a medium size heavy bottom saucepan, bring blueberries, honey, and water to a boil over medium-high heat. Cook for about 4 to 5 minutes while stirring until the berries begin to pop. Remove from heat. Add dried lavender, cinnamon & ginger. Blend with a stick blender until pureed. Using a sieve, strain into a bowl, pressing the berry skins to release all the liquid. Refrigerate for several minutes until lightly chilled. Add the drops of
Lavender Essential Oil
and
Vanilla Absolute
, then stir in the half-and-half. Pour mixture into an ice cream maker (1 1/2-qt. or larger capacity). Freeze according to manufacturer's directions until firm enough to scoop. Enjoy!
Note - The mashed berry skins can be placed flat on waxed paper, flattened and dried to make fruit leather :)
Optional - Like a lot of flavor with an exotic flair? Add 1-2 drops of Cardamom Essential Oil to this recipe!