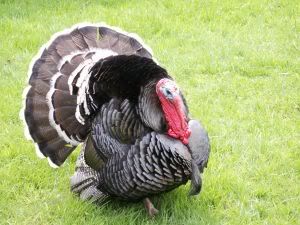 Thanksgiving is one of our most cherished holidays. It's a time to gather with family and friends, and celebrate the gracious bounty and blessings that have been bestowed upon us over the past year. It is also the time of year when many folks struggle to prepare a juicy turkey ;)
Brining a turkey is one of the best ways to give you a moist, tasty, tender, satisfying holiday bird. The turkey absorbs moisture and flavor in this overnight preparation process. It also cuts down on the amount of work while cooking as it does not require basting and the constant attention that an un-brined bird does.
It is important to pick a turkey that has not been injected with a "solution" or a Kosher Turkey (which already has been soaked and salted). A fresh turkey over a frozen turkey is generally preferred for flavor and is less likely to be "adulterated" in any way.
NOTE: You may also use this brining method for a goose
Ingredients
1 14 to 16 pound whole Turkey
Brine Mixture
3/4 cup fresh orange juice
1 drop
orange essential oil
1 cup fresh lemon juice
1 drop
lemon essential oil
2 cups chopped yellow onions
1 &1/2 cup brown sugar
2 cups Kosher salt or coarse Celtic Sea salt
1/2 cup chopped fresh parsley leaves
8 chopped garlic cloves
1 tablespoon black peppercorns
½ tablespoon allspice berries
1 drop
cumin essential oil
1 drop
oregano essential oil
2 tablespoons vegetable oil
Aromatics Mixture
1 apple, sliced
1 small onion, sliced
1 cinnamon stick
1 cup water
4 sprigs fresh rosemary
6 fresh sage leaves
1 bay leaf
Yield:10 to 12 servings
Directions for Turkey
1. Rinse the turkey under cold running water.
Pat dry with paper towels and set aside.
2. To make the brining liquid, combine the brine mixture ingredients above
with 2 gallons of cold water in a large glass or stainless steel pot. Stir to dissolve the sugar and salt.
3. Place the turkey in the pot with the brining liquid. Refrigerate at least 12 hours, and up to 24 hours. Turn the turkey periodically to ensure that the turkey is evenly marinated.
4. Preheat the oven to 500 degrees F. Remove the turkey from the brine and put it in a large, heavy roasting pan, on a rack, breast side up. Lightly rinse the turkey (to prevent it from being too salty). Pat dry with paper towels. Discard brine.
5. Rub the turkey with vegetable oil (preferably a good quality olive oil).
6. Gently tuck the wings in under themselves to prevent burning
(this is preferable to trussing the bird, which will only prolong cooking time).
7. Microwave the apples, onion, cinnamon, bay leaf and water from the aromatic stuffing mixture on high for 4-5 minutes, or simmer on stove for 5 minutes. Lightly stuff bird with steeped aromatics mixture along with the rosemary and sage.* Add aromatic water to bottom of the roasting pan.
*This is not a traditional edible stuffing, it will be discarded after cooking (see stuffing note below).
8. Roast the turkey uncovered at 500 degrees F for 30 minutes. Then reduce heat to 350 degrees F, cover the breast area with foil and roast until meat reaches an internal temperature of 165-170 degrees F. on an instant-read meat thermometer (about 2-2&1/2 hours).
9. Remove from the oven and let stand in the roasting pan or on a serving platter for 20 minutes before carving.
*Stuffing Note:
If you are going to make a traditional accompaniment stuffing side dish, it is strongly recommended you cook it separately from the bird and not stuff it in the bird itself, especially if the bird is over 15 lbs. This is because a large bird like a turkey requires several hours to heat through to the center. A bread (or rice) stuffing provides an ideal environment for bacterial growth.
One way to solve this problem in birds under 15 lbs is by preheating the stuffing (a microwave is the easiest, quickest method) to 120 to 130 degrees. This gives the stuffing a head start on the cooking process so that the turkey does not overcook as it waits for the stuffing to reach the proper internal temperature of 165 degrees.
Happy, safe, holiday blessings to all!